FOR PARKS AND RECREATION FANS AND THEN THE REST OF YOU IDIOTS
NOTE FOR PARKS AND REC FANS: You are winning at life. You can continue reading, but just know that you are already superior.
Now. If you know me in real life, or follow my twitter, or have seen me walking around Brisbane in a certain t-shirt, or have heard my certain television program theme-song ringtone, you would know that I love this show called 'Parks and Recreation' aka THE BEST SHOW ON TELEVISION. NO BIG DEAL OR ANYTHING.
I'm not talking the kind of lightweight 'love' that people fling about willy-nilly these days. I'm talking about the kind of love that never dies. The kind of love that is only awoken by the kiss of a sweet prince. I don't know what this means, but I think you get the very creepy picture.
Let me clarify, I don't love it in a sexual way.
NOTE FOR IDIOTS WHO HAVEN'T WATCHED IT
: I am almost definitely going to convince you to watch it by the time you've finished this entry. Take my contentious advice and skip the first season (6 episodes). You can go back and see them later. Season 2 is the BUSINESS.
Moving on. There are literally (you would understand that this is a very funny reference if you watched) a million things I could talk about as to why I love this show. I want to talk about one in particular, but first let me show you a few of the other reasons.
If seeing these gifs aren't enough to make you want to watch it RIGHT NOW, then I don't even know how you got here and you should probably go away before I say something I regret.
Besides the wonderful main characters, the amazing guest stars (Louis CK, Will Arnett aka the only man i'll ever love etc), my absolute favourite thing about this show is the relationship depicted between Leslie Knope (the stah) and her best friend Ann Perkins (the most beautiful lady). THIS IS NOT A LESBIAN THING BEFORE YOU ASSUME. WELL MY FEELINGS TOWARD THEM SEPARATELY IS SOMETIMES A LESBIAN THING, I MEAN HAVE YOU SEEN RASHIDA JONES, BUT THE THING BETWEEN THEM IS NOT A LESBIAN THING- OKAY THAT IS CLEAR NOW I THINK, YOU FILTHY PERVERTS.
Anyhoo, I was planning to go on and on about how wonderful it is to see an expressive relationship between two women where their friendship isn't all about men, and how they don't compete or treat each other badly. And how rare that is, and how just that one thing makes Parks & Rec worth watching. And how easily they say they love each other, or are affectionate towards each other, and how we need more representatives of THAT kind of female friendship, which is common in real life, but underrepresented in pop culture.
But instead I just looked at pictures and gifs from the show for two hours, and I'm tired. I'll leave you with a few of those instead. Pictures paint a thousand words and their pictures are much prettier than my words or whatever that saying is. After this, if you still don't want to watch – you are a soulless monster who doesn't deserve love. Too harsh?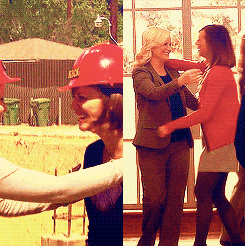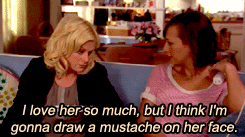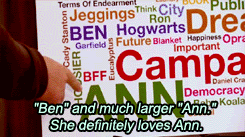 NO THAT OBVIOUSLY WASN'T TOO HARSH, WHAT ARE YOU STILL DOING HERE GO AND WATCH IT RIGHT NOW YOU MONSTER!!!
*gifs from fuckyeahparksandrec.tumblr.com